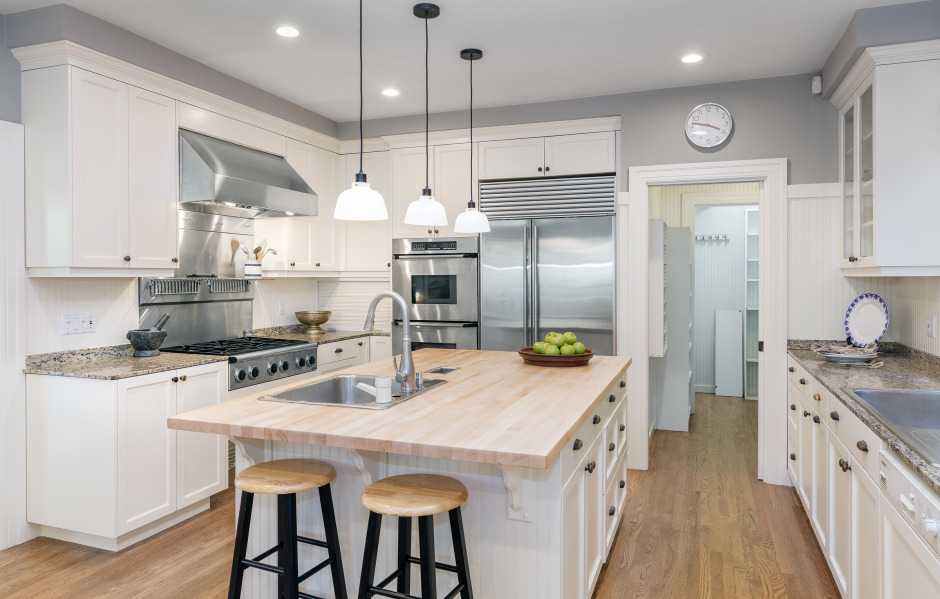 Gorgeous Kitchen Renovations to Enhance the Way You Work and Entertain.
Home renovations have two components – making your home more enjoyable to live in, and adding value to it. Kitchen updates and remodeling have the benefit of delivering on both fronts.
If your home is older, it probably has a kitchen designed for a lifestyle that has changed. Modern kitchens often need space for two (or more) cooks, plus a myriad of electrical gadgets and appliances.
Unlike in days gone by, kitchens have become a point of gathering – they are almost the "family room" of modern times. Plus today's busy cooks have more to do than spend lots of time with kitchen upkeep, so convenience is a plus. We offer several remodeling packages to refresh your kitchen and bring it up to date.
Kitchen Remodeling Options for Minneapolis Homeowners
Iron River Construction is in the business of helping Minneapolis West Metro area homeowners beautify their homes with renovations that add value as well as function.
We currently provide two levels of kitchen makeovers:
Our "Better" Package Includes:
Standard "box" style cabinets with upgrades, soft-close drawers and doors, full drawer extension glides, full dovetail box drawers. Minor site modifications (non-load-bearing walls, electrical, and plumbing)
Cabinet hardware installation (hardware not included)
Formica countertops with wood edge
Stainless drop-in sink with mid-range fixtures
Vinyl or pre-finished laminate flooring
Standard set tile backsplash (no decorative designs, accents, or turned tiles)
Or Choose our "Best" Package to Get:
Custom cabinets with all upgrades and hardware installation
Cabinet door fronts for refrigerator and dishwasher
Site modifications (walls, sheetrock, electrical, plumbing and HVAC, moving of sinks, outlets, light fixtures, etc.)
Granite or tile countertops
Granite under-mount sink with top-range fixtures
Tile or wood flooring
Tile backsplash with decorative, accents, and turned tile
Whichever package you choose, you'll also get our professional service and exceptional workmanship.
We're committed to consistently providing kitchen remodeling and other interior and exterior remodeling services that meet our client's needs. And if you read what our satisfied Minneapolis area clients have to say, we deliver on what we promise.
If your kitchen remodeling needs are somewhat less than the full packages we offer, please feel free to contact us to see what kitchen renovation solutions we can provide.
Family-owned and operated since 1992, Iron River Construction is a local Minneapolis kitchen remodeling contractor with experience and excellent client ratings & reviews. Choose Iron River Construction when you are thinking about remodeling your kitchen!
Featured Kitchen Remodeling Projects
View our Kitchen Photo Gallery for new ideas and previous projects completed by Iron River Construction. See why we are the right choice for Minneapolis West Metro area homeowners!
"We remodeled our outdated kitchen (70s style) with the help of Iron River Construction. Alex B. made the process seamless. The project was completed on time and exactly to our wishes.
Alex kept subcontractors on schedule and was onsite almost daily. The whole project took only 5 weeks. I highly recommend this company, have shared my experience with many friends, and definitely will hire them again for future home improvements. Thank you Alex and Iron River Construction!!!"
LORI L.