Get the Custom Deck, Gazebo or Porch You Have Always Wanted For Your Minneapolis and West Metro Home
Enjoy Minnesota's great outdoors by building the perfect deck.  Iron River's deck building services offer great deck ideas, product options, and more.
From a variety of maintenance-free deck material options to cedar decks, we can build the outdoor entertaining area you desire.
Decks and Porches: Minneapolis Area Outdoor Living Areas
What better way to enjoy the great outdoors than by adding a porch or a deck onto your current home? Wouldn't you enjoy sitting on a porch during a warm spring or summer evening reading a book or playing a game with your family? How about having a cook out off the deck with visiting friends? Iron River Construction can help design and build the porch or deck of your dreams!
Deck Designs That Match Your Dreams
Give Iron River Construction a call when you're ready to design your new deck for your Minneapolis West Metro home! Our builders will work with you to design a deck that you and your family will use and love for years to come. There are several points we'll take into consideration as we design your deck: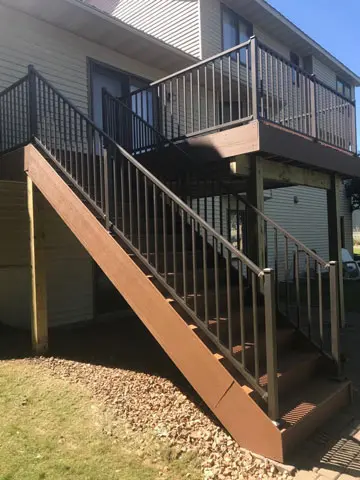 Deck Railings
One of the most important features of your deck: the railings. Any deck that is over 30 inches off the ground is required to have a railing for safety purposes, but you'll probably want to consider having a railing around the entire deck to prevent any accidents. As you plan what style railing you want, be sure that the spindles or balusters are no less than four inches apart to avoid children or small animals from slipping through.
Multi-level Decks
To add variety, you may want to consider adding different deck levels. Keep in mind that each staircase takes up extra deck space, but can add an attractive uniqueness to your outdoor space.
Deck Accessories
Do you enjoy colorful flowers and plants? Consider including planters in your deck design. It may be fun to add built-in benches around part of your deck for a ready-made sitting area to enjoy with your family and friends.
Deck Staircases
A staircase is a necessity if you wish to access your yard from the deck. There are many points to consider when designing the staircase. It should not be too wide, near a seating area, or near a doorway. As an extra safety measure, you may want to include a gate at the top of the staircase, especially if young children will regularly be on the deck.
Custom-Designed Deck Built for Your Family
For hosting parties, grilling, and casual visits alike, a beautiful deck makes it easy to have fun outdoors. You can set up your deck to make it easy to cook outside, if that's your preference. Or, you can build your deck with ample access points close to your kitchen. Or, you can make a multi-tiered deck with plenty of seating and tables. Or anything else you can imagine—it's all doable with the right frame of mind, creativity and craftsmanship.
Decking Brands We Trust
In addition to spectacular designs, Iron River Construction offers only the best in building products. We offer a variety of materials including maintenance-free and a wide selection of woods.
Iron River can Build a Three or Four-Season Porch for Your Home!
A 3 or 4 season porch is probably the easiest way to add year-round usable space to your home. We can build you anything from a simple porch with screens and windows up to a four-season porch.
Would you prefer to use your porch year-round? We can design a three or four-season porch with screens and windows, so you can have a cozy extension to your Minneapolis home that can be used any time during the year.
"Before choosing Iron River to build our new deck, we met with five different companies. From the moment we met Randy, we could tell he was extremely knowledgeable, had great suggestions and wasn't pushy. Randy kept in communication with us throughout the process and now that our deck is done we couldn't be happier. We would recommend Iron River to anyone. "
HEATHER L.

A Chaska area couple was frustrated that moisture and pooling water was causing their wood deck to rot and decay, and they were no longer able to enjoy their outdoor space…
A Custom Deck From Iron River Construction That You and Your Family Will Love
You'll love the look of a well-designed deck with gorgeous materials like beautifully stained wood, elegant built-in furnishings, and other eye-catching features. From planters filled with flowers to charming twinkle lights, and more, you'll love looking outside at your deck—and you'll relish life even more when you're lounging out there and having fun.
Iron River Construction is a local Minneapolis West Metro company with over 20 years of experience and excellent client ratings & reviews. Choose Iron River Construction when you are thinking about adding a deck to your home!
Give Iron River Construction a call today! Our professionals will start working with you right away to design the porch or deck that will be the perfect addition to your family's home.
Deck and Porch Photo Gallery
View our deck and porch Photo Gallery for new ideas and previous projects completed by Iron River Construction. See why Iron River Construction is the right choice for Minneapolis and St. Paul area homeowners!
Iron River Construction is a local Minnesota company with 16 years of experience and excellent client ratings & reviews. Contact Iron River Construction when you are thinking about remodeling your kitchen!