Offering Minneapolis & West Metro Area Homeowners professional grade vinyl siding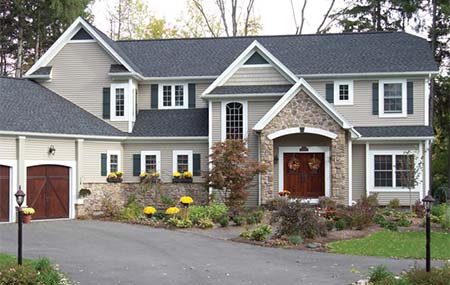 When you are thinking about the addition of vinyl siding on your Minneapolis home or business, Iron River Construction is the number one choice of vinyl siding installers. We install a vast variety of siding options.
Vinyl siding is one of the most commonly used type of siding found on Minneapolis & West Metro homes. Many homeowners have replaced their old siding with vinyl siding; especially those with homes originally constructed with traditional wood siding.
Vinyl Siding Benefits for Minneapolis and West Metro Homes
Less Fading: It used to be that the biggest con of using vinyl siding was the quick fade of color. That is no longer the case. Thanks to recent technology, quality vinyl siding products have ultra violet (UV) stabilizers included. This protects the vinyl from fading and PVC (polyvinyl chloride) breakdown. The coating is applied by the majority of vinyl siding manufacturers to filter the UV rays which protects the vinyl's color and susceptibility to further UV damages.
Environmental Advantages of Quality Vinyl Siding
The production of vinyl siding requires less energy than other siding types. How is this good? More than 2 billion square feet of vinyl siding is produced each year.
It is a 'green' product because it helps reduce energy use by providing insulation and heat-saving properties. Homeowners can expect a lower cooling and heating bill.
Factory remnants and leftovers from job sites can be recycled. Unfortunately, old siding removed from a home is not recyclable.
No need to paint which means less toxins in our water and air.
What People Have Said
I would recommend Iron River Construction to neighbors solely based on the customer service I have received during this project.
Vinyl Siding is a great investment for your home
Re-siding a home is among the top ten remodeling projects in terms of overall return on investment. You can often recoup 100% or more of your investment from a siding job, especially if you hire the right vinyl siding installer. Call Iron River Construction today for a FREE siding installation consultation.
Iron River Construction is the best choice for your Minneapolis siding and home remodeling project – we are the Minneapolis West Metro vinyl siding professionals!
Siding Photo Gallery & Client Testimonials
View our Siding Photo Gallery to see how new vinyl siding can transform the look of your home. Also see why Iron River Construction is the right choice for Minneapolis siding installation and remodeling, with our client testimonials.