Iron River Construction is a full-service home remodeling contractor serving Chaska and Southwest Minneapolis.
Home Remodeling Services for Southwest Minneapolis
We Know Southwest Minneapolis Homes
Total Home Remodel
Location: SW Minneapolis
Renovations: Whole home remodel, kitchen remodel, basement remodel, bedroom remodel
A homeowner came to us at Iron River Construction with a unique opportunity: updating their entire home inside and out…
"Our project was managed on time and within budget. The subcontractors were considerate and respectful of our home, and the work was done with professionalism and craftsmanship."
BRENDA W., MINNEAPOLIS

What Makes Iron River Different?
We do what others say just can't be done!
Most people are overwhelmed by the thought of a large home remodel project. There are so many decisions to make and if the right decision is not made, it could mean losing valuable time and money while their home and family life remains disrupted.
Since 2000, our team at Iron River Construction has helped thousands of homeowners repair and remodel their homes so they can live the lifestyle they've always wanted. We help you make the right decisions to keep your project on time and within budget. And for you—that means you get what you expect and have more time to enjoy your home and family.
Take the first step and call us today. Your dream home is possible!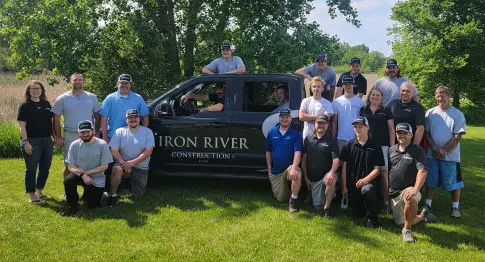 Home Remodeling Made Simple
Get a Free Estimate
We listen to you and take the necessary time to inspect your home properly so you quote is accurate and you know what to expect throughout the process.

Design Your Home Remodel
For larger projects, we'll produce drawings and plans and help you make the right selections for your home remodel finishes.

Be Proud of Your Home Again
Feel satisfied that you're living the lifestyle you always wanted in the best-looking home on the block!
Our Workmanship Guarantee
With Iron River Construction, you can be confident that your expectations will be met for your home project. Our teams are licensed and insured, and use real-time production software. This keeps your project on time while showing you the progress of your project every day. We don't cut corners on any project, so your work will be done properly—guaranteed.