Roofing Installation, Replacement & Repairs in Minneapolis, St Paul & Greater Minnesota
Finding roof shingles that are missing, curled up, or torn are clear indicators that a new roof is needed. Extreme hot or cold weather, leaks, excessive mold or simply increasing the retail value of your home are also reasons to replace the roof on your home. When you realize you need to replace your roof, choose the top roofer in Minneapolis: Iron River Construction.
Iron River provides quality products in addition to making the entire roof replacement and repair process simpler and faster for the people of the Minneapolis and St. Paul MN area.  As home roofing experts, we use only the very best roofing materials, the finest crews and produce the best quality of work. Providing a 50-year material and labor warranty on every roofing job, Iron River Construction confidently stands behind all of their roofing work.
Our Easy Roofing Installation Process | Serving Twin Cities and Greater Minnesota Customers
Ensuring that every roof job is completed better, faster and easier, Iron River makes the re-roofing process of your home a seamless experience for you. In addition to this, Iron River also promises the following benefits to every prospective customer:
You may request an initial Roofing Quote online or by calling 952-442-1762.
The initial roof inspection will be scheduled only when it works for you.
Iron River Construction will meet with the insurance adjusters at your home.
Iron River promises to follow your instructions for the placement of all of the materials.
Crew sizes will be both maintained and organized.
Job and material delivery will be scheduled only upon insurance approval.
Enough time will be given for you to prepare for your roofing project.
Iron River promises to complete the majority of roofing projects within in 1-2 days.
What People Have Said
I had my roof done by your company after a hail storm went through. All I can say is "WOW"! The workers did three of my roofs that were damaged in three days. The price was better than others! I checked the website before hiring and it certainly made your company appear very credible. I would recommend you company without hesitation. Any problems were addressed immediately and without hesitation. More should be like you!
Hail and Storm Damage Repair in the Twin Cities and Greater Minnesota Area
When a Minnesota storm strikes your home, your life is disrupted and all you want to do is get your life – and your home – back to normal.
Iron River Construction can help you get that done. Our experts are trained and equipped to restore your home after high winds, hail damage, tornadoes and other natural disasters. We are a first-class company that prides itself on professional crews, superior workmanship, quality building materials, and the expertise needed to ensure your complete satisfaction.
As an experienced, full-service contractor and remodeler, you can be assured that we can handle any home construction project.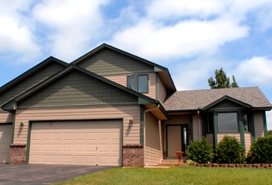 Photo Galleries
View our Roofing Photo Gallery for new ideas and previous projects completed by Iron River Construction. See why Iron River Construction is the right choice for Minneapolis and greater Minnesota area homeowners!
Your Trusted Minneapolis Roof Contractor
Based out of the Twin Cities area, Iron River is a trusted name among Minneapolis and Minnesota roofing contractors. With a name that represents integrity and the highest quality, Iron Rivers provides many roofing services that include the following:
Roof inspection
We work with your insurance company
Roofing product selection
Storm and hail damage assessment & repair
Tear-offs
New roof/shingle installation
Complete site clean-up