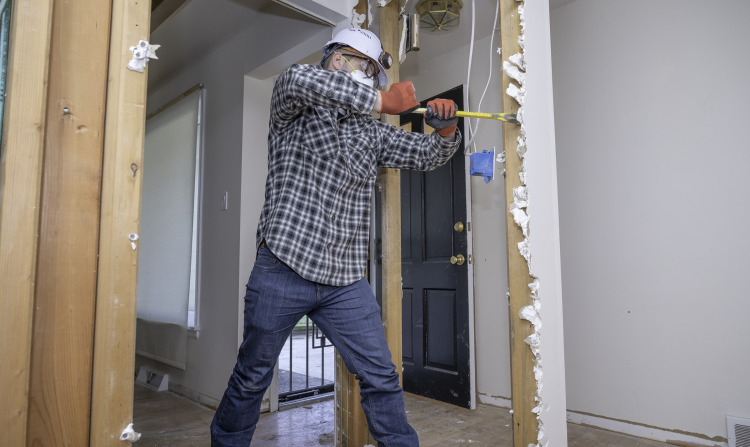 Considering a home remodeling project that involves knocking down some walls?
With more people than ever working remotely and housing prices soaring, a lot of homeowners in the Minneapolis area are looking for ways to upgrade and modernize their dwelling. Creating an open floor plan can be an effective means of getting a space that fits how you currently use it.
But before you get out the sledgehammer, be sure you know which of your walls can be safely removed, and which are load-bearing walls that need to stay where they are. Here's more guidance on why it is key to identify essential walls before you commit to remodeling plans.
The Basics of Interior Home Structure
Open floor plans are popular, but they must be executed properly to give you the added value, comfort, and lasting results you desire. As you contemplate ways to upgrade your property to get the most out of your space, it helps to know what's possible and what isn't. And that starts with understanding how a home is constructed.
What Is a Load-Bearing Wall?
Sometimes, a wall or other interior structure serves simply to create livability, such as making a place for a chimney to go, or closing off a room to add privacy. Such walls are referred to as "partition walls" because they serve the sole purpose of adding to the design and flow of the home.
But some walls do more—they provide needed support that keeps your home structurally sound. Load-bearing walls hold up higher floors, attics, and roofing so that the entire building is safe. Without load-bearing walls, your house would ultimately collapse.
Can a Load-Bearing Wall Be Removed?
While it's possible to remove such walls, keep in mind this basic principle:
Whatever is removed from the house's support system must be replaced in some form if the house is to remain structurally sound.
This means that you can't simply knock down the wall and move on. You must plan for how to help the weight of the house be distributed evenly and securely. There are a variety of ways to do this, and a professional remodeling company like Iron River can help you navigate your options so you can make the choice that fits you best.
How to Tell if a Wall or Interior Feature Is Load-Bearing
To help spot a load-bearing structure inside your home, consider where it is located and how it serves the space.
If the wall is on the exterior, it's structurally necessary.
If you're in a multi-story home, walls stacked atop each other are likely load-bearing.
Load-bearing structures can include full walls, partial walls, chimneys, and pillars.
Your home's architectural plans for the house may help identify essential walls.
Walls that are structurally key may also have supporting joists, struts, or continuous footing. Pros can help you locate and assess these features.
The best way to identify structurally essential walls is to bring in a professional to assess your home. Experts know exactly what to look for, and they're trained to spot things the average homeowner may miss.
Is It Better to Hire a Pro to Remove Walls?
Home remodeling shows on TV make it look easy to take a DIY approach to opening up your floor plan. But they don't reveal the intense amount of planning and work involved to make sure a house stays structurally sound.
The fact is, there are several reasons it's wise to turn to a team like ours when you're knocking down walls in your home.
Ensures Your Home Remains Sound
Removing a partition wall is simple, but removing a load-bearing wall requires careful planning. You must find a way to support the house's weight through other means, which is much better left to professionals who can assess your property's unique needs.
If you're not 100% sure whether a wall is load-bearing or not, it's vital to find out—and our expert team at Iron River Construction can help.
Matches Remodeling Style to Your Architecture
Did you know that there are a variety of looks and materials you could consider when shifting the support from a load-bearing wall to another structure?
Pros can advise you on whether you should choose to add simple beams, a set of posts, laminated veneer lumber, or another option. Their input can help you match your new interior design to your architecture, keeping intact the specific look of your Craftsman, Arts & Crafts, Bungalow, Mission, Tudor, or other style home.
Meets Building Codes
Professional remodeling companies are well informed of any municipal codes and regulations in your area and can make plans that fit them. They'll also help you obtain permits and approvals. These are things you'd have to do anyway, even if you DIY. But it's much easier to hand that responsibility to those who do it every day.
Safeguards Your Home if Problems Arise
Any type of home improvement project can experience delays, challenges, and unforeseen issues. With structural work such as removing a load-bearing wall, you want to avoid risking a partial collapse. This requires installing a secure system of temporary support while the remodeling is done—something that's not so easy to do unless you're experienced at it.
Get an Open Floor Plan You'll Love for Years to Come
Open floor plans are a wonderful way to give your home a welcome upgrade. And beautiful results are possible when you have the right remodeling team on your side to open up your living space. 
At Iron River Construction, we've got nearly 20 years of experience helping thousands of homeowners in Minnesota create a brand-new look to revitalize their home lifestyle. See how one total home remodel we did gave a fresh, lovely style to a home in Bloomington, and begin envisioning how we can do the same for you.