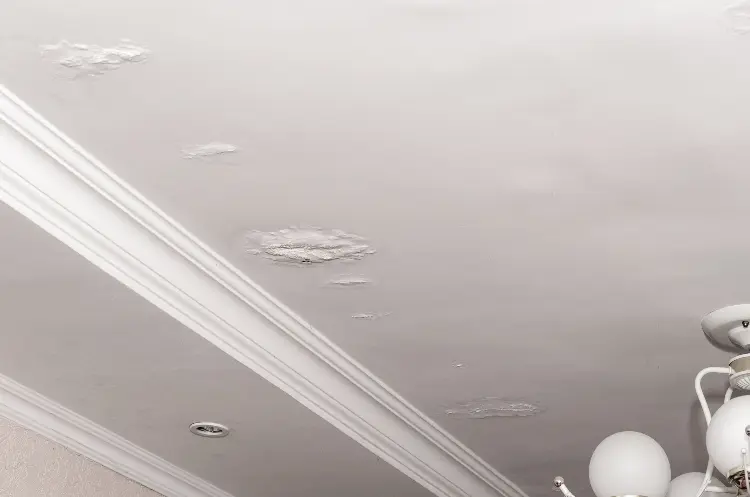 Protect Your Roof from Stormy Weather and Leaks
Annoying water stains on the ceiling—you've probably seen them other places, such as at the office or while visiting a friend's house. But when you're sitting in your home, relaxing comfortably during stormy weather, only to look up and notice your ceiling is wet, it's worrisome. You can't help wondering if the problem is a roof leak.
When water stains and spots show up, it's time to look into what's causing them and make plans to get a roof repair or roof replacement if needed. You'll be glad you took the steps needed to safeguard your home from storms and preserve its value.
Here are some key things to know about water stains in your home, and when to call a trusted roofer to address the issue and give you peace of mind.
Do Water Stains Mean I Have a Roof Leak?
The short answer is—it's likely. Spots on the ceiling are a definite signal that there is, or was, a moisture problem at some point, and they are usually related to your roof.
These water spots from moisture incursion can occur suddenly, such as damage that happens during a storm. If that's the case, you'll probably notice the spot is wet to the touch and dripping when it is raining outside.
Water damage can also occur slowly over time, as an area above the ceiling gets repeatedly wet. Over time, the moisture causes rot or deterioration, and eventually the moisture makes it through your ceiling.
Either way, you need to inspect the roof and attic to find the specific cause and address it. Until you do, the water spots and stains will continue to get worse.
What Commonly Causes Water Spots?
Simply put, water spots on your home's ceiling are caused by excess moisture seeping through the drywall above the ceiling so that it becomes visible to you. But the source of that moisture can come from many places.
Pipes and Plumbing
If you have an upstairs floor, and the spots are on the ceiling of a lower floor, then it is very likely that the excess moisture is coming from a leaky pipe. The most obvious cause is a bathroom directly over the water stain, of course. But the water may also be running along the outside of the pipe and dripping elsewhere.
Damaged Gutters
Your gutter system should drain rain and melting snow and ice safely away from your home. But if the gutters are cracked, bent, or loose, water may end up pooling in spots along the roof and working its way under eaves and inside the home.
Aged or Missing Caulking and Flashing
Any area where moisture can penetrate should have adequate caulking and flashing to seal against water incursion. This includes the frames around windows, skylights, roof vents, chimneys, and so on. If these protective seals are damaged or gone, water will work its way into your home.
Inadequate Ventilation
Sometimes, homeowners may notice spots showing up on the ceiling after a dry snow. In this case, it's a sign that the issue isn't a leak but rather improper ventilation. The difference between the heat inside the home and the cold outside is causing condensation, and the resulting moisture is causing water stains.
Roof Damage
Shingles can be broken or pulled out of place due to aging, wear and tear, wind and other weather elements. The result is that your roof beneath the shingles is exposed to stormy weather. This is a common cause of roof leaks, especially in older homes or homes that have not been well maintained in the past.
What to Do about Water Stains on the Ceiling
It's important to track down the cause of the excess moisture that's resulting in water spots. Once you know the cause, fix it promptly to prevent more costly damage to your home from occurring. Here's what a roofing inspector will help you do:
Look in the Attic
The roofer will check your attic, starting directly above where the stains appeared, and then move throughout the rest of the attic to locate any obvious leaks or water damage. Any leaks can be addressed during roof repair or replacement. Wet insulation will need to be replaced.
Check Ventilation
The roofing inspector will check attic windows and vents to be sure they are functional and that you have adequate ventilation for your size home. If the ventilation is insufficient, a roof replacement and the addition of new vents may be needed.
Inspect the Roof and Gutters
The process of inspection isn't complete until the roof and gutters are examined, which means climbing on top of the home. This should only be done by trained professionals with the skills and equipment to do it safely and properly.
Schedule Roof Repair or Roof Replacement
Once the root cause of the moisture incursion is determined, your roofing contractor can provide a plan that eliminates leaks and safeguards your home. If the leak is small and isolated, roof repair to that area may be a good solution. If the damage is more widespread or if your current roof is old, a roof replacement is often the better choice.
Get Roofing Repairs Fast—Before Storm Season Arrives
When snow, ice, sleet and rain come through the Minnesota area, you want to be confident that your home is well-protected. So, if you've noticed a roof leak or other signs that your roof is weakened or damaged, now is the time to take action—before the weather gets harsher.
Our roof repair and roof replacement team has performed thousands of home improvement projects for Minneapolis and St. Paul area homeowners, providing trusted new roofs that stand the tests of time and weather—and give you confidence your home is protected.
Contact us to schedule an appointment and get a free consultation that helps give you peace of mind about your home's lasting value and performance.