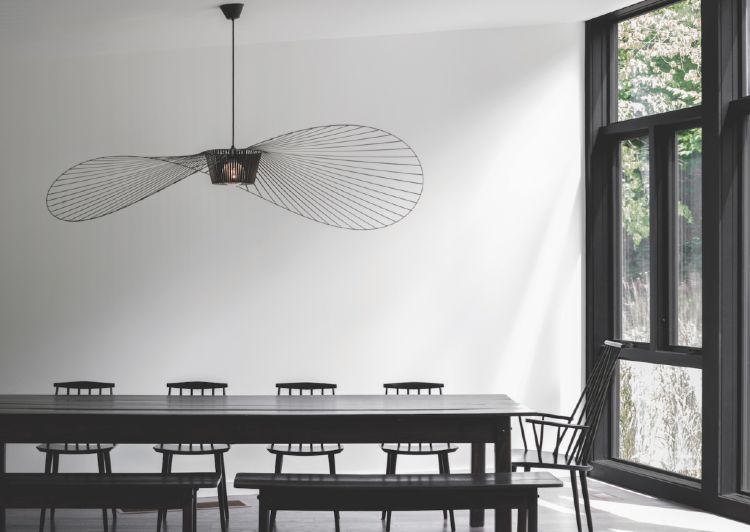 When you're looking for a home exterior that stands out and catches the eye, take a look at your window frames. This simple element of your home's structure can add amazing flair, especially when you select a frame style designed to spark attention from the curb. And right now, what's trending are bold, black fiberglass window frames that impress neighbors and visitors.
Why Black Window Frames?
Selecting the right colors is essential to creating an appearance for your home that is unforgettable. Dark, dramatic colors may seem unusual—but once you take a deeper look at this appealing, modern window style, you may realize that it's exactly what your home needs.
Our Iron River Construction windows team is seeing greater Minneapolis/St. Paul area homeowners choosing—and loving—these striking black window frames. Here's why.
Works with Many Color Palettes
Black can serve as a neutral color, which means it can go well with a selection of different color palettes. This gives homeowners an additional layer of flexibility when deciding how to match replacement windows with their home's current color scheme.
Lets You Get Daring with Design
If you're into bold, deep colors, then black window frames are an excellent matching choice. Black also stands out nicely against patterns and prints, so you can get daring with wallpaper, furniture fabrics, and rugs.
Blends with a Variety of Home Architectural Styles
Black window frames definitely work with contemporary style homes and a minimalist look. But they also mesh well with traditional styles, meaning you have options no matter what type of home you have.
Fits with Other Home Elements
These days, black is in for a lot of home elements, from kitchen appliances and tables to bathroom fixtures and curtain fabrics. If you're looking for a way to match home exterior aspects with your interior features, black-framed replacement windows do the job.
Creates a Dramatic Attention Piece
A deep black frame immediately draws the eye to it. As a result, it's a wonderful option for rooms where you want the window or doorway to be an attention-grabber. If you have a floor-to-ceiling window or a large set of French doors, a black frame with off-white walls will create a strong statement.
Works with Different Window Materials
Whether you want classic wood windows or modern, efficient, strong fiberglass windows, the trend toward black frames fits well.
How to Make the Most of This Bold Black Trend
To make bold window frames work for your home, consider these tips:
Go for it — If you're at all interested in black window frames or other home features, don't be afraid to give it a try.
Find a statement piece — Black is especially eye-catching on interesting architectural features like the windows in an airy, spacious room.
Don't overlook the hardware — To create a smooth, streamlined look, use black locks and handles to match black window and door frames.
Consider the undertones — Just as "white" comes in many shades and has many undertones, so does black. You can opt for black shades that have a bit of purple in them, or bronze, or other shades that are important to consider when creating your color scheme.
Work with a professional — Pro designers and expert window replacement teams can help you figure out the right color scheme for your home, as well as the right replacement window style to meet your needs.
Benefits of Choosing Marvin for Your Replacement Windows
When it comes to choosing black window and door frames that perform well and look impressive, Marvin® is where many homeowners naturally turn. Homeowners love Marvin windows because of their many benefits:
Unparalleled value
Long-lasting
Stunning on any style home
Built to order
Craftsman-quality construction
Energy-efficient
Extensive selection of styles and shapes
Specialty glass and fixture options
Available in many materials—wood, aluminum, fiberglass
Impressive warranty that gives you peace of mind
Beautiful Options from the Marvin Product Lines
When you invest in replacement windows, our team consults with you to help you select window designs and shapes that fit your personal style and taste. Among the choices you get with Marvin:
Essential Collection

Clean, streamlined appearance
Made of strong, durable fiberglass
Easy to care for

Signature Collection

Broad range of product types, sizes, and designs
Superb aesthetics to create the architectural look you crave
Nearly limitless customization options

Elevate Collection

Fiberglass exterior with impressive strength
Wood interior with a lovely appearance
Great performance in all climates
Love Your Home by Giving It Lasting Style
Replacing your windows and upgrading your home's appearance doesn't have to be frustrating. With the help of Iron River Construction, the preferred window replacement contractor for Minneapolis/St. Paul, you'll have a beautiful, transformed home that fits your lifestyle. We'll consult with you to determine the best replacement windows for your home, so that you relax and enjoy it in style. Contact us to schedule a free estimate to start your home transformation.