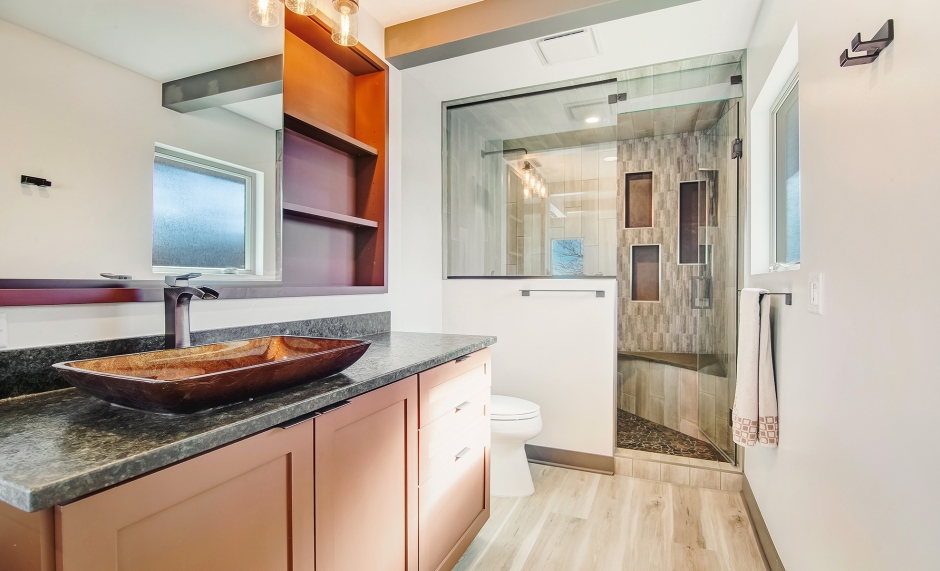 Full-Service Remodeling to Cater Your Bloomington Home to You
You should love every inch of your home. But when the floorplan doesn't serve you, the interior is outdated, or the exterior could use an extra dose of curb appeal, it's time to make a change.
At Iron River Construction, we're committed to providing Bloomington homeowners the homes they've always wanted. Our highly skilled contractors offer interior and exterior remodeling services to customize your existing home to give you a more beautiful, functional space.
Interior Remodeling: Rethink and Refresh Your Living Space
Old home floor plans and layouts can feel cramped and confining, and outdated finishes can make your home feel stale and stuffy. Our interior remodeling services are tailored to you—we can reinvigorate any space in your home:
"The crew did a fantastic job with our kitchen remodel. Their communication and project management through the design and build process was extremely thorough. Would definitely recommend them to manage any remodeling project in the future. 10 out of 10"
BLOOMINGTON, MN HOMEOWNER

Exterior Remodeling: Transform Your Home from the Outside, In
Your home's exterior is the first thing people see, and it's also your first line of defense from invading Minnesota pests and harsh winter weather.
Roof replacement: Have confidence in your home again with a sturdy roof overhead, installed by experienced professionals using top-notch materials.
Deck Installations: Gather in a new outdoor living space that's attractive and built to last.
Featured Project
Total Home Remodel in Bloomington
A Bloomington resident came to us at Iron River Construction with a unique opportunity: updating their entire home inside and out.
The homeowner did not want to move due to their beautiful location on Andersen Lake. They enjoyed being in their backyard with their family. However, throughout the home, inconsistencies and poor space planning left the client desiring a home that had been intentionally created just for them.
Renovations to Add Value and Life to Your Bloomington Home
Bloomington is a welcoming community with a thriving arts scene and a commitment to sustainability. As contractors, we're just as committed to sustainability and making the most of your existing home by preserving and enhancing what's already there.
And? We've done just that with our most recent project: Our entry to the Parade of Homes Remodelers' Showcase in 2021, located right here in Bloomington.
To learn more about how we can revitalize your existing home, schedule an appointment with our friendly team today.