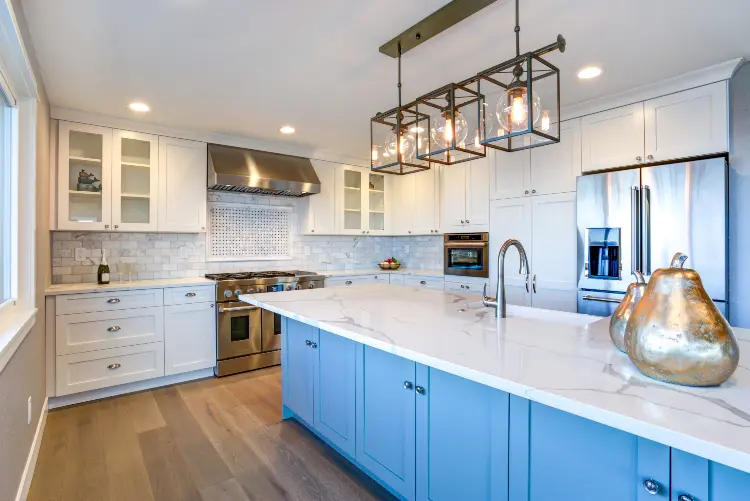 Kitchens are the heart and soul of your home. But when they feel cramped, it's not easy to enjoy them. Adding a new, open kitchen with elegant features is a super popular way to make your home more livable and enjoyable.
The Value of a Kitchen Remodel for Home
When you're ready for a new kitchen, an open concept is among the most common of kitchen remodel trends because it transforms cramped areas into wide, airy spaces. A freshly remodeled kitchen creates a natural gathering place where kids can do homework and hang out with friends, all in the same room where parents or older siblings are working on dinner.
One of the biggest reasons this is trending is that it adds value to your home. Home buyers look for features that a new, open concept kitchen facilitates—islands, breakfast nooks, ample counter space and storage. If they don't see what they want in your kitchen, they're likely to move on to another house. Even if you're not planning on selling soon, a kitchen remodel is a smart choice to add value to your home.
Thinking about a home remodel? Ask these 7 questions first.
Kitchen Remodel Ideas You'll Love
As you imagine what a new kitchen can do for you, here are some popular remodel trends to consider.
Use Butcher Block Countertops and Islands
Butcher blocks are nearly maintenance-free, needing just an occasional coat of mineral oil. It's easy to keep them looking attractive, and they create a convenient, functional workspace. Whether you use butcher block as your countertop or atop an island, you'll love how it looks and performs.
Add Concealed Range Hoods
Let your stylish kitchen appliances steal the show, and hide elements that are not so cool-looking. Trendy minimalistic concealed range hoods are great because they blend in and don't stick out like a sore thumb the way early-model range hoods can.
Opt for Black or Grey Appliances
Stainless steel appliances may be highly popular, but too much of the silvery metal can be overwhelming, especially in a small space. Choose refrigerators, stoves, microwaves, and other kitchen accessories in slick, ultra-modern shades of black and dark-colored slate for a fresh, attractive look.
Create More Lighting
Older kitchens often lack natural lighting, and many old light fixtures aren't designed to keep a space bright. So, increase the lighting in your kitchen with a creative use of added modern light fixtures.
Install Dark-Toned Floors
If you're creating a new kitchen, consider contrasting light-colored walls or cabinetry with a rich, dark floor stain. Dark hardwood floors absorb sunlight, so they aren't as prone to fading as lighter hardwood. They look better longer, especially in rooms with large windows or skylights that let in a lot of sun.
Double Your Pleasure
Think in twos! Double ovens offer twice the cooking space. An extra island provides a designated prep station and a separate entertainment area. Two sinks help when there's more than one cook in the kitchen. Having one sink as part of the countertop and the other in the island is the height of convenience.
Conceal Appliances
Adding fronts to your appliances that match or blend into cabinetry is a nice feature in a new kitchen. Even refrigerators and dishwashers can be out of sight when dressed to match the cabinets and the rest of the kitchen.
Revamp Pantry
Make your pantry area large enough to store the majority of your dry goods but small enough to keep things organized. Install movable shelves, lazy Susans or other features to make storage spaces a breeze to use.
Opt for Marble Countertops
Marble kitchen countertops look elegant and attractive. So, it's no surprise that marble countertops and backsplashes are still sought after by home buyers. And since this beautiful stone is classic in appearance, it's a great choice in Tudor-style remodels and historic homes.
Go for Natural Wood Tones
Stained and painted woods are still popular in Arts and Craft-style homes. However, natural wood is a growing trend that works in any style home. Light brown wooden shelves bring a warm, down-to-earth feel to any kitchen space.
Consider Open Shelving
Open shelves give homeowners a chance to showcase beautiful kitchenware, heirlooms, and collectibles. Everyday items can be placed at arms-length for easy access, a feature that goes well with the space-saving touches in Bungalow kitchens.
Add Plate Racks
Vintage plate racks in many shapes, sizes, and styles are popular right now. They can be displayed on countertops or mounted permanently on walls to show off kitchenware in a functional way.
Choose Reclaimed Wood
For an eco-friendly approach, use reclaimed wood for your custom cabinets. Rough-hewn, reclaimed wood is gorgeous and unique. If you're bold in style, go for innovative options such as bamboo and even, believe it or not, recycled plastic bottles.
Install Showstopping Sinks and Backsplashes
A farmhouse sink made of soapstone with brass hardware is a Craftsman-style showstopper. Or, opt for a creative backsplash to make your home stand out from the crowd.
Go for Trendy Colors
White, ivory, yellow, red, green, blue and gray are all popular paint colors for walls, cabinetry, kitchen trim and at the base of an island. Bring in colorful furniture to tie everything together.
Apply Wallpaper
Make your kitchen pop by adding wallpaper inspired by your colorful dinnerware. Since the kitchen has so much cabinetry, appliances, and windows, you won't have to use a lot of wallpaper to make a big impact.
Get the New Kitchen of Your Dreams
A lovely, well-planned kitchen remodel is a smart way to give new life to your Minneapolis area home. It will provide years of practical enjoyment and give you a solid return on investment when you're ready to place your home on the market.
Browse our gallery for ideas and inspiration, and discover how our creative design team can bring life to your kitchen remodel.