If you are looking for an alternative look to the traditional horizontal boards, such as HardiePlank® lap siding, check out a vertical siding option. HardiePanel® vertical siding is a simple way to add unique interest to your Midwest home's exterior.
Besides its one-of-a-kind look, vertical siding can make your home seem taller than it actually is. The upright boards create a slight elongating illusion.
Whether you use vertical siding as full-body siding or as a detail in your design, working with James Hardie® horizontal or vertical siding gives you the same benefits, including:
Products that are specifically engineered to help withstand damage from moisture and rot.
Unique fiber cement product formulation designed to perform in extreme heat and cold, which helps resist the impact of hail and windblown debris.
Also available with ColorPlus® Technology finish, which is engineered to help resist damaging UV rays, so your color will stay vibrant longer.
Here are a few vertical-sided standout homes, ranging from full cladding to accents of the perpendicular planks:
Fully Clad Contemporary
This modern beauty is fully clad in HardiePanel vertical siding in Arctic White with gray details.
Straight-up Gables
This single family home is clad in HardiePanel vertical siding in Khaki Brown with matching HardieTrim® boards, as well as HardieTrim boards in Sail Cloth. The red shutters pop against the more neutral siding and trim colors.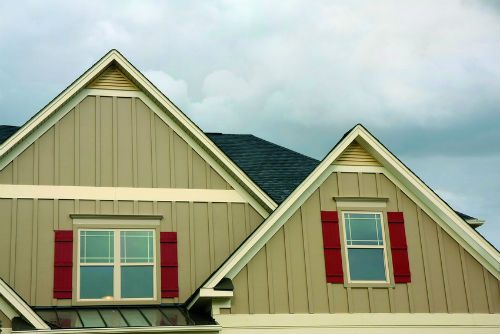 Hints of Vertical Siding
This tucked-away home is clad in horizontal siding with vertical accents in the tip of the gables.