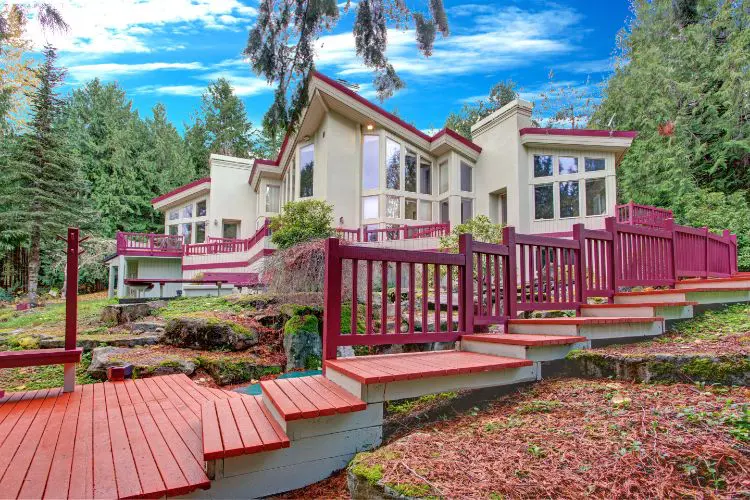 As a homeowner, you want every inch of your home — inside and outside — to be attractive and functional. You should be enjoying every area of your home to its fullest, and that includes your backyard.
Here in the Minneapolis/St. Paul area of Minnesota, a lot of homeowners have houses with small, sloping backyards, which presents an obvious challenge for building. A large, straight, one-level deck isn't a viable option in many cases. But there is a solution — the versatile, appealing, fun-filled, multi-level deck. With a custom deck installed by a home contractor that knows what works in our landscape and climate, you'll be living life to the fullest.
Let's take a look at how you can transform your sloped yard with the home deck of your dreams.
Advantages of a Multi-Level Deck
What is a multi-level deck? Simply put, it's a deck with multiple layers, which can be stacked in a variety of ways to give homeowners like you a creative, elegant outdoor living area for entertaining and relaxing in style.
There are several benefits to installing a multi-level deck rather than a traditional one-level deck.
Maximizes your space
If your yard is small, or if space for building a custom deck is limited, a multi-level deck is a great solution. By stacking the deck, so to speak, you can enjoy as much as twice the deck space in half the footprint. This frees you up to have grassy areas to enjoy as well as the built deck area.
Simplifies construction
If you have a sloped backyard, one of the biggest challenges of building the deck you desire is configuration. With a carefully planned and executed multi-level deck, you can work with the backyard structure you already have. There's no need to excavate and remove soil to even out the yard — saving time and money. You can even build in stages over a few years if you wish to break up the cost over a longer period of time.
Creates distinct spaces
If you desire one area for outdoor cooking, a separate area for dining, and another section for sunbathing and a hot tub, a multi-level deck offers the opportunity to create distinct spaces for each. With the right design, you can create a sense of flow while still setting each sectiom apart for its own unique use.
Provides shaded areas
Multi-level decks are great at providing shade and cover to the areas beneath them. At least some portion of your decking will be naturally protected from the sun and rain, so you can enjoy outdoor time in any weather you choose.
Visually eye-catching
While a traditional deck is nice in its own way, a multi-level deck is visually interesting and appealing simply because the design is different than the expected square or rectangular look of a typical deck. Add to that beautiful furnishings, stairs, railings, flower features, curves and other stunning features, and your deck can be the envy of your neighborhood.
Gives you better views
If you have a traditional deck right now, you know that you get one view from that single level of outdoor space. Replacing that deck with a multi-level deck gives you not just more room, but multiple views too. Enjoy sunrises and sunsets while seated on the top level. From another, lower level, you can watch the kids play.
Inviting to guests
With more outdoor space available, it's easier and more fun than ever to entertain family and friends. Your guests can travel from one deck level to another as they wish, creating more variety and tempting them to stay longer and enjoy their time with you.
Style Designs to Consider
Two-level deck
If you have an existing deck already and space to build out, then you might consider adding a level rather than a full deck replacement. This approach makes the most of what you already have, and just adds more to enhance the space.
Build a lower deck
It's natural to think about building up, but another option that often yields great results is to build into areas that are lower than your home's first floor. This approach is visually interesting, maximizes space in yards that slope downward, and lends itself to built-in hot tubs and pools.
Install cozy nooks
Since multi-level decks allow for separate areas made for separate purposes, why not maximize that effect? During the design phase, plan for secluded, relaxing spaces set apart from the rest of the deck. Use these areas for quiet relaxation or intimate conversations with a close friend.
Subtle layers
Multi-level decks don't have to be a full floor apart from each other to be effective. If you crave a more level area with a more interesting design than just one slab of wood, you can create subtle layers that take only a step or two downward or upward to reach. It's a beautiful, inviting look and it's very functional.
Add a top level for sunbathing
Want to make the most of soaking in rays on warm, sunny days? As you build your custom deck, plan for a high area that is open to sunlight. This space can be as large or as intimate as you wish, and by setting it apart, you can maintain the rest of your deck for entertaining large groups.
Enjoy the Deck of Your Dreams
Make the most out of your sloped backyard for years to come with a beautiful, elegant multi-level deck installed by the expert team at Iron River Construction. We specialize in custom deck installations and deck replacements that add value to your home and give you a more satisfying lifestyle. View our deck gallery for inspiration, and then contact us to schedule a consultation on how your yard can be transformed by the multi-level deck of your dreams.