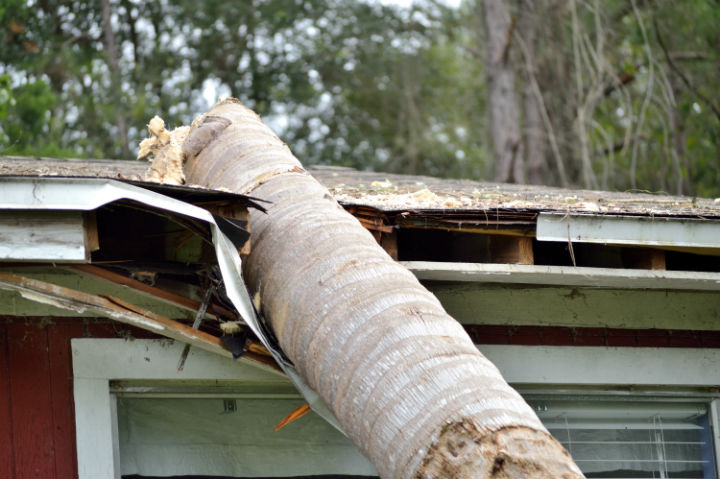 When a storm comes ripping through your town, your primary concern is the health, safety, and well-being of your family. Depending on the type and severity of the storm, you either retreat to a safe room within the home or evacuate altogether. But once the storm passes and you make sure everyone is safe, you more than likely turn your attention towards your property. Are there fallen trees? Are your cars damaged? And what about the house?
Responding to Storm Damage
The first thing you'll want to do after a storm is to assess your property. This means taking a walk around your house and analyzing/looking for the following:
Roof. If there was lots of wind, rain, and/or hail, your roof probably took the biggest hit. Look around and try to spot any signs of damage, such as holes, cracks, or leaks. If you see any noticeable damage, you'll need to cover the affected area to prevent water damage and have a professional quickly repair the problem.
Driveway and walkway. Concrete may be strong, but it's not always sturdy enough to withstand major storms. Look for signs of cracking or splitting as they can pose safety risks down the road.
Trees. While you'll immediately notice if there are any trees fallen on your property, you may not always notice cracked limbs that were damaged in the storm but have yet to become detached. These are arguably more dangerous because they can break off and hurt people or property with very little warning.
Windows. When strong winds and hail are in play, windows can be cracked or shattered by flying debris. Walk around the perimeter of your home and look for any signs of cracked glass or broken windows.
Siding. Finally, you need to check out the siding. Depending on whether you have brick, wood, vinyl, fiber cement, stone, or stucco siding, your house may be susceptible to damage from the elements.
If you find damage to your home, the most important thing is that you identify the problems that are most dangerous. For example, if there's a massive hole in the roof and you know another rainstorm is coming, the first priority is to get a tarp in place.
After you've determined that there are no immediate threats, you should begin photographing the damage and taking inventory of your possessions. Not only will this help you remember all of the issues you find, but it'll also make the process of filing insurance claims easier.
Once you've made emergency repairs and recorded the damage, you should quickly contact your insurance agent and make a claim. As home improvement expert Paul Holmes points out, "Insurance companies sometimes work on a first-come, first-served basis; so it's in your best interest to file an insurance claim as soon as possible. When you contact your provider, let them know the extent of the damages and that you have an inventory of your possessions. An insurance adjuster will come to your property, assess the damage, and determine the size of your payout."
Assessing and Repairing Siding
Sometimes a home's siding will take quite a beating as the result of a violent storm with heavy winds. While your home's roof and foundation will obviously require your primary attention in the direct aftermath, it's a good idea to pay attention to siding damage as soon as possible. Here are a few specific things to do:
1. Look for Signs of Damage
During your walk around the property, keep your eyes peeled for signs of siding damage. If you have vinyl or fiber cement siding, the most common signs of damage are cracking, chipping, and breaking. Discoloration, stripped paint, and broken boards are telltale signs of damage if you have wood siding. With stucco siding, you'll see small and large holes. And while bricks stand up fairly well when compared to other materials, don't ignore cracks and other damage as they could undermine the integrity of your home.
2. Understand Your Coverage
Once you sort of have an idea of what damage exists to the siding, turn your attention towards insurance coverage. "Check your policy to ensure you understand what it covers, and get the best deal within that coverage by knowing what's in your policy," home improvement expert Jason Michael White suggests. "For example, your insurance policy may include an extra provision for re-siding your whole house, even if the storm damaged one area only."
3. Consider Your Options
Depending on the extent of the damage and the type of coverage you have, you may have a few different choices. Figuring out whether it makes sense to spot repair problems or invest in a total re-siding can be a bit challenging. Sort through all of the pros and cons and make the choice that makes the most sense for the future value of your home.
4. Make a Claim
Before you finalize an insurance claim, it's smart to call a reliable siding contractor in your area to get an estimate of how much the job will cost. In most cases, the insurance company and contractor will provide very similar estimates. But in the off chance that the numbers differ, you want to look into this variance ahead of time.
5. Focus on Prevention
The final suggestion is to focus on future prevention. While it's impossible to keep a natural disaster away, you can reduce the chances of your siding being damaged by pruning trees and bushes away from the house and dealing with any dead trees and branches.
Let Iron River Construction Help
At Iron River Construction, we understand just how devastating a natural disaster can be to your community. That's why we offer quick and responsive service to homeowners in and around the Minneapolis area. Not only do we offer storm damage repairs, but we also specialize in siding installation. That means we're more than capable of helping you with your specific needs. For more information or a free quote, please don't hesitate to contact us today!