Vinyl siding is a fantastic choice for any home. It's cost-effective, looks great, and is easy to maintain. However, you'll occasionally need to clean the siding if you want to give it that like-new look. When cleaning, make sure you follow the appropriate steps and never do anything that could harm the finish.
Benefits of Vinyl Siding
Vinyl siding is one of the most popular siding choices for homes of all shapes and sizes. While there's certainly merit in choosing stone, brick, stucco, and other materials, the reality is that vinyl makes more sense in most situations. Here are some of the specific benefits:
Cost effective. Generally speaking, vinyl siding costs less than the alternatives. According to CostHelper, the average cost of vinyl siding for a 1,250 square foot home is somewhere between $2,500 and $8,750 – or $2-$7 per square foot. Fiber cement siding, on the other hand, typically costs between $5,600 and $13,750 for the same size home – or roughly $4.50-$11.00 per square foot.
Versatile. Vinyl siding is also valued for its versatility. You can find it in just about any color or texture you're looking for, which allows for total customization. Many of today's vinyl sidings can even be manufactured to closely mimic other materials.
Durable and sustainable. Vinyl siding has the ability to withstand extreme heat, high winds, moisture, and cold. As a result, much of the siding on the market comes with extended or lifetime warranties. Additionally, vinyl is very sustainable, making it a green option for environmentally conscious homeowners.
Easy to clean and maintain. Finally, vinyl siding is a breeze to clean and maintain. If you're looking for a siding solution that won't require a bunch of time and money down the road, vinyl is your best choice.
Whether you currently have vinyl or are considering vinyl for your next home, keep these benefits in mind. They can make a world of difference both practically and financially.
3 Tips for Cleaning and Maintaining Vinyl Siding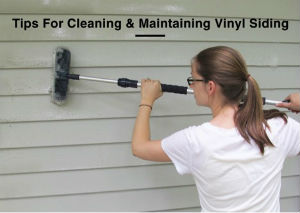 As you'll notice, one of the best parts about choosing vinyl siding is that it's easy to clean and maintain. And as promised, let's look at some specific tips and techniques you can use to keep your vinyl siding in pristine shape.
1. Homemade Cleaning Solutions
The best way to clean vinyl siding is by using homemade cleaning solutions and soft cloths or microfiber towels. This will help you remove dirt and grime without scratching or damaging the actual siding. Some good cleaning solutions include:
Mix 70 percent water and 30 percent white vinegar together to make a good all-purpose cleaner that's easy on vinyl. The vinegar can cut through virtually any stain or mark – even light mold and mildew.
If you need a stronger solution, try one quart liquid laundry bleach, one gallon of water, one-third cup powdered laundry detergent, and two-thirds cup powdered household cleaner.
If you have landscaping directly underneath your siding and are afraid of harming your plants, you may want to use an alternative solution. This cleaning solution uses one gallon of water mixed with a cup of oxygen bleach. The oxygen bleach does a nice job cleaning the vinyl, but poses no threat to plant life.
Clorox actually makes an outdoor bleach that's for vinyl. "Dilute it according to the manufacturer's directions," says Abe Gal, owner of a Florida home cleaning company. "Spray it on and let it sit for a few minutes and then wipe it off."
If you're comfortable with some of these methods, go ahead and give them a try. And if you only need a light cleaning, you may be able to get away with nothing more than some water and a scrubber.
2. Pressure Washing
Another very effective option is pressure washing – though you do have to be a little more careful when cleaning this way. It's best to check your manufacturer's recommendations and warranty information before going this route. They should provide you with some tips or things to avoid.
If you do choose to pressure wash your vinyl siding, make sure you keep the stream at eye level and pointed straight at the siding. If you point the stream at an angle, you risk driving water behind the siding. Along this same note, be very careful around plumbing connections, windows and doors.
When pressure washing, only use cleaning solutions that are safe for vinyl. Avoid using anything that has organic solvents, bleach, liquid grease remover, undiluted chlorine, and similar ingredients.
3. Removing Mold and Mildew
If you have mold or mildew on your vinyl siding, you'll need to take a more strategic approach to your cleaning. Try a product that's specifically made for killing outdoor mold and mildew – such as Wet & Forget outdoor.
You can also use bleach to kill mold and mildew on your vinyl siding, but make sure you water it down to the right concentration. One quart of household bleach to one gallon of water is ideal – but you should weaken it even more if possible. And in order to protect landscaping around the house, wet or cover these plants prior to application.
Since you don't necessarily want to be in direct contact with bleach, try using a pump sprayer. Work from top to bottom and then allow the solution to set on the siding for roughly 10 minutes. After the time passes, scrub the siding with a soft bristle brush and rinse the solution off with a garden hose.
Contact Iron River Construction Today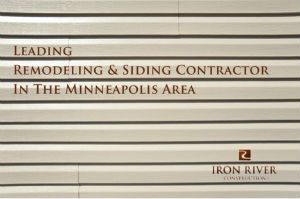 At Iron River Construction, we're the leading remodeling and siding contractor in the Minneapolis area. Whether you need siding installed, repaired, or anything in between, we can help you achieve the clean and sophisticated look you desire.
We've been in business for more than 16 years and have been recognized as a trusted member of the community since 1992. If you're looking for a family-owned and operated business with an A+ rating from the Better Business Bureau, then you've come to the right place. Please contact us today and we'd be happy to give you a free in-home consultation and quote on your next siding job.