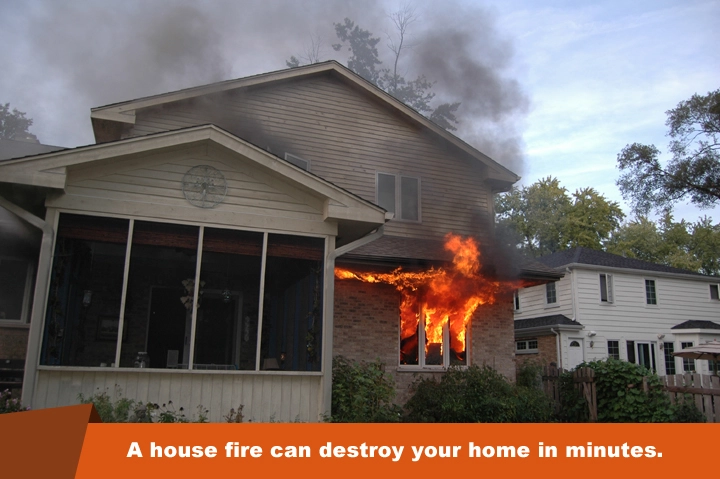 A house fire can destroy your home in minutes. People who live in states prone to forest fires are regularly reminded of this horrifying reality. A single flame can start a chain reaction that eats homes, destroys precious belongings and memories, and takes lives.
Whether you live in a region that's prey to forest fires, or you're aware of the high risk of fire inside your home, you can use fire-resistant building materials and safety measures to keep everything from going up in smoke. You won't always be able to stop a fire when it threatens your home, but you can protect the structure and many of your belongings while giving yourself time to vacate the premises safely.
1. Fire-Resistant James Hardie Siding
Wood siding is a popular choice for its aesthetic appeal, but it's not terribly practical. It's too easy for bugs and woodpeckers to chew through, readily warps in rain or sunshine, and is highly flammable.
James Hardie Siding is the perfect solution for homeowners who want the appearance of a wood structure without the negative aspects. There's a reason that James Hardie is the number-one siding brand in America: The fiber-cement material looks like wood on the outside, but it's 90 percent sand and cement on the inside, which makes it highly resistant to fire.
It's also made of non-combustible materials and approved for fire-resistant construction. It has a flame-spread index rating of 0 and a smoke-developed index rating of less than five. It's not entirely impervious to flame, but does not catch fire very easily, burns more slowly, and has a better potential for protecting the interior of your home until the flames are extinguished.
2. Fire-Rated Glass for Windows
The fire rating of your glass window panes should also be checked. Though glass will never be impervious to heat (it's formed using heat, after all), there are certain types of glass that will withstand hotter temperatures better than others.
Some windows are designed with a special glaze that can endure fire for anywhere from 60 to 120 minutes without breaking. If your windows don't have this glaze, it can be applied later.
Normal glass can shatter under extreme temperatures in a matter of minutes. If anyone gets stuck inside a burning house, it puts him in danger of abrasions from flying glass.
People outside the home who watch or fight the fire are in danger from this, as well. When your windows can resist heat long enough for you to get out and the fire to be extinguished, you may not only save your windows, but also yourself and loved ones.
3. Insulated Concrete Framing
Insulated concrete forms (ICF) are composed of two layers of heavy polyurethane with two insulation layers poured between. This creates one of the strongest, most energy-efficient forms of insulation frames employed in both residential and commercial construction.
The forms fit together like blocks to form walls in place of sheetrock and wooden beams. Though this method of framing costs between one and four percent higher than traditional wood framing, it's a safer choice in terms of fire resistance.
Because it's made of concrete and polyurethane, it won't catch fire.
It's important to note, however, that fireproof framing is nothing without fire-resistant siding. "You can't just put on a regular wood roof and expect the wildfires to go around you," Vera Novak, Technical Services Manager for the Insulating Concrete Form Association told This Old House. "You must make sure that your roofing choices are equally fire resistant. That can be done with metal, concrete, and various types of tiles."
4. Fire-Resistant Carpeting
Fires often start in the interior of your home. Your carpet is a dangerous enabler for flames: Synthetic carpets burn very easily, which increases the risk of a fire starting in your home.
Something as simple as a dropped cigarette could ignite the fibers, and because carpet usually covers the entire span of the home, the fire will spread quickly. It doesn't matter how fire-resistant the outside of your home is if you don't take measures to prevent fires on the interior.
Choosing fire-resistant carpeting goes a long way for any home. These carpets come in the same attractive colors, patterns, and textures of other carpets, but without the fire-starting weaknesses
Be wise in choosing the materials the carpet is made from. The most common fire-resistant choice is wool. "Wool carpet is a safe option because of its natural resistance to burning," says a blog post from Empire Today. "It has a high protein and moisture content, which make it hard to set on fire. If wool does catch on fire, it burns weakly. As a result, it is hard for the fire to spread."
If it's not in the budget to purchase new, entirely flame-retardant carpeting, you can have your carpets treated with fire-resistant chemicals. These chemicals are safe, and after they're applied, you won't know they're there. Even if you only have small rugs in your home, fireproofing chemicals could save the day.
Have a Safer Home with Iron River Construction
At Iron River Construction, we believe our clients should be happy and safe in their homes. We offer siding, window, and remodeling solutions to the greater Minneapolis area.
We've serviced hundreds of customers' homes with an excellent customer approval rating, and we know you'll be satisfied too. For more information about how we can exceed your home remodeling needs, contact us today!